Archive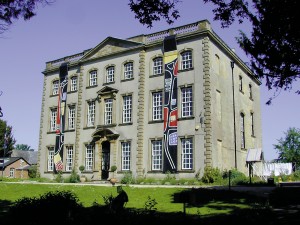 Banners and street maps
Maps are a rich source of inspiration and an ongoing obsession, they work on so many levels imparting information and aiding navigation but also recording and documenting the changes to our environment. A series of paintings inspired by old maps of Sherborne led to this commission for two large banners installed on the façade of Sherborne House for the Site exhibition in 2002. Based on an 1834 street map of the town they use an aboriginal style to reinterpret the high street as a symbolic journey.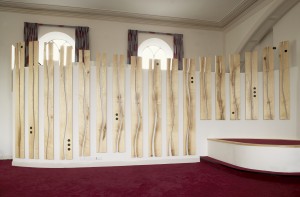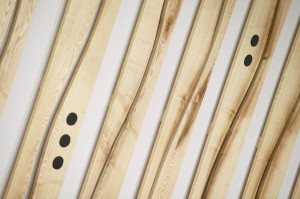 Church Screen
A single ash tree sliced along its length into several sections was used for this joint commission with furniture makers Illingworth & Partridge. The brief was to create a wall screen inspired by music for a Baptist church in Yeovil. The natural forms in the growth of the tree influenced the design which was accentuated by inlaid discs of black ash to convey a sense of rhythm and musical notation.
Haunt
2003 Artist in Residence, Sherborne House: A series of work created in response to the empty building of  Sherborne House in Dorset.
Mainly Eighteenth Century but dating in parts from Tudor times the house was used as a school for many years. Old timetables littered the floors, text books lined the shelves of store cupboards and layers of peeling magnolia paint occasionally revealed the rich colours of the 18th Century decor.
Nine Rooms                                                                     The Black Square
Haunt Magnets: A series of fridge magnets featuring interior decor and architectural details of the building