News
EXHIBITIONS AND PROJECTS 2017
South Dorset Ridgeway interpretation commission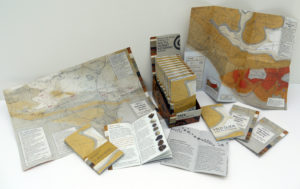 Hooray – The Field Guide and the first two maps exploring the landscape of the South Dorset Ridgeway have now been printed and are being distributed to TIC's and other local outlets. These first two maps show walking routes in the Abbotsbury and Portesham area. A further four maps with routes exploring the Valley of Stones, Black Down, Bronkham Hill, Bincombe and Ridgeway above Sutton Poyntz will be available in the autumn.
The concept behind the Field Guide and maps is to highlight how the unseen geology beneath our feet dictates or influences the landscape we see today. From landforms, soil, plants, wildlife and early human intervention – all relate to the rocks below the surface. The colours on the maps indicate the type of rock and its age of formation. In contrast to geological maps that use a universal colour coding system, I have used colours that approximate the actual colours of the rocks – a link to my Colour of Time work. The maps also show prehistoric sites – this area has an astonishing range, field boundaries – including the names of fields where known, and other notable features. The accompanying Field Guide gives an introduction to this remarkable landscape and some of the things to look out for.
This project has enabled me to incorporate a long-term interest in maps, walking, routes, trackways archaeology and geology, bringing together ideas of the physical experience of landscape and the presence of the past with notions of rocks as vast data stores recording everything.
The Guide and maps come as a package and are a handy pocket size – about the size of a smart phone – the maps fold out to A3 and are laminated. They are FREE so get one while you can.
The walk routes themselves were devised by the team at Dorset Area of Outstanding Natural Beauty and Rangers from the County Council's Countryside team who look after this landscape.
Thank you – Sam Scriven and Richard Edmonds for awakening my innate interest in geology and inspiring my approach to this project. Also thank you to Claire Pinder and Steve Wallis for fuelling my passion for all things prehistoric, Andy Elliot and Stacey Vanstone of Dorset County Councils GIS team for their mapping support and Simon Barber for design work.
And a big thank you to the South Dorset Ridgeway Partnership for the commission.
OPEN STUDIO
I will be showing research work and work in progress for the above project at my Open Studio event in September – details below.
Amanda Wallwork – Open Studio
Sat 9, Sun 10, Wed 13, Thur 14, Fri 15, Sat 16, Sun 17 September
11am – 5pm (other times by appointment)
Showing painting and other work concerned with archaeology, geology and formation of landscape – revealing what is not always immediately apparent, what can't always be seen on the surface.
Includes research and work in progress on recently commissioned series of maps and Field Guide exploring the landscape of the South Dorset Ridgeway.
Top Floor Studio, The Old Timberyard, West Bay, Bridport, Dorset DT6 4EL
Directions & parking:
Take the road to West Bay from Bridport, go straight over the mini-roundabout by Haddon House Hotel and turn into the Old Timberyard gateway on the right just before George Street. Parking available in yard or car park opposite.
I now have a facebook page too!
Been and gone….
---
Affordable Art Fair Battersea 9-12 March 2017
Exhibiting with Amanda Aldous Fine Art at the spring show in Battersea. Includes very new work currently in progress!
BATTERSEA SPRING, Battersea Evolution, London SW11 4NJ
Sladers Yard, West Bay, Dorset until 26 Feb
I now have work in the current show RADIANCE at Sladers Yard in West Bay which has been extended for a further month until Sunday 26 February. I am planning to be at the gallery on Saturday 11 February from lunchtime onwards so please do come and say hello. The exhibition also includes work by Alex Lowery, Janette Kerr, Luke Elwes, Stephen Jacobson, Daisy Cook, Michael Bennallack Hart plus wood carvings by David West and furniture by Petter Southall.  Sladers Yard has a great cafe too.
Sladers Yard, West Bay Road, Bridport, Dorset DT6 4EL 01308 459511
Gallery and Café Monday to Saturday 10 am – 4 pm. Sundays and Bank Holidays Gallery: 12 noon – 4 pm. Café: 10am – 4pm.
Cornwall
If you are down Cornwall way anytime – the Belgrave gallery in St Ives hold a selection of my work – its not always on show but you can view the work online here.
Belgrave St Ives, 22 Fore Street, St Ives, CORNWALL TR26 1HE
01736 794888
info@belgravestives.co.uk
EXHIBITIONS AND PROJECTS 2016
EXHIBITION
MIAR Ceramics & Arts
Christmas 2016 Open House Exhibition
MIAR Ceramics & Arts, 9A Hove Place, Hove, East Sussex, BN3 2RG 01273 323726
Southampton University: TAG Conference and Exhibition 'Visualisation'
The Chart of Invisibility, Lighting Up the Ridgeway (commissioned for Field Days) and one of my Field Map paintings have been selected for inclusion in Sightations – an archaeology inspired exhibition running as part of this years Theoretical Archaeology Group [TAG] conference hosted by Southampton University. The conference theme is 'visualisation'. "The exhibition seeks to unpack what it means to represent archaeology visually in 2016. By juxtaposing creative art forms with scientific approaches to representation Sightations takes aim at archaeological visual conventions and strives to reveal new links between different disciplines, creative industries and sectors of archaeology- drawing connections between ideas with an eye towards future directions for archaeological visualisations."
 Conference runs 19-21 Dec 2016
OTHER NEWS
Chart of Invisibility posters are now available to order.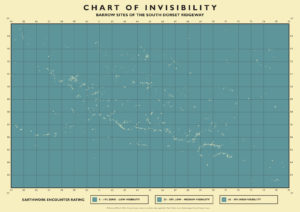 Inspired by an archive 1940's copy of 'Phillip's Chart of the Stars' The Chart of Invisibility uses archaeological data on the distribution and current condition of round barrows and re-imagines it as a constellation map. The map charts the position of all known barrows across the whole South Dorset Ridgeway area. The varying size of the dots or 'earthwork encounter rating' indicates whether a barrow is in good condition and therefore visible; damaged and partially visible or completely destroyed with no visible trace remaining. Eliminating all other mapping detail brings the focus purely on the pattern of distribution and relationship to landscape.  
 The Chart of Invisibility along with its companion work  Lighting Up the Ridgeway were commissioned for a project aimed at increasing public understanding of the South Dorset Ridgeway – an archaeologically significant area of Dorset. Both the works focus on the numerous barrows or tumuli that populate this landscape and the contrast between those visible today and the number that once existed. The works were originally shown in Field Days – a touring exhibition curated by Artsreach as part of a South Dorset Ridgeway Partnership project funded by the Heritage Lottery. Both artworks were based on data kindly provided by Claire Pinder, Senior Archaeologist, Dorset County Council.
Digital prints on satin 250g paper
Size A1 (594 x 841 mm)£20 plus P&P
Size A0 (841 x 1189mm)£30 plus P&P
Please email me for details: amandawallwork9@gmail.com
ALSO
Some of my work for the step in stone Mendips Art in Quarries trail project was shown as part of this years Geological Association annual conference where Sam Scriven from the Jurassic Coast Team gave a presentation on how the arts can be successfully used in earth science engagement and interpretation. It's really pleasing to be able to show work beyond the usual gallery contexts.
Meanwhile I am hard at work on a commission for the South Dorset Ridgeway Partnership involving 'Interpretation' for a series of walks exploring the landscapes of this archaeologically and geologically significant area of Dorset.
---
FIELD DAYS
Commissioned by Artsreach, this exhibition of work by six artists is inspired by the archaeology, geology and ancient myths and legends of the South Dorset Ridgeway. The show also includes work by artists Dan Bendel, Sarah Butterworth, Isla Chaney, Tessa Farmer and Susan Kinley.
My work for this project has focused on the numerous barrows (or tumuli) that are such a feature of this landscape.  Working with graphic designer Richard Sercombe and electronics wizard Nigel Day I have created an illuminated panel – reminiscent of a starry night sky that uses lights to plot all the known barrow sites of the South Dorset Ridgeway area – including those where no visible trace now remains. By pressing a button the viewer is able to switch between lighting up those barrows that survive reasonably intact and still visible today and revealing the sites of those that are more difficult to detect or completely destroyed. The work draws attention not only to the vast number of barrows but also their distribution and relationship to the landscape. The work is based on barrow condition data supplied by Claire Pinder, Senior Archaeologist with Dorset County Council Council.
Chart of Invisibility – A new work for Field Days
Alongside my illuminated panel and series of paintings based on the traces of lost barrows, these next shows of the exhibition tour will include an additional new work. This uses the same archaeological data on barrow condition and distribution but this time reinterpreted as a constellation chart in the style of an old 1940's star map. Poster copies of the Chart of Invisibility will be available soon – contact me for details.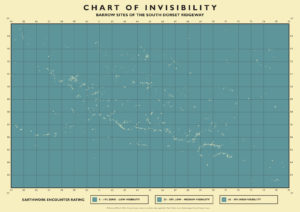 The exhibition will visit the following venues:
Walford Mill Craft Centre, Wimborne BH21 1NL Saturday 18 June – Sunday 3 July, Mon-Sat 10am-5pm, Sundays 11am-4pm
Martinstown Village Hall DT2 9LF Saturday 9 & Sunday 10 July, 11am-4pm
Kingcombe Centre, Toller Porcorum DT2 0EQ Friday 22 – Sunday 25 July, 11am-4.30pm
Thanks to Nigel Day, Richard Sercombe, Simon Barber and Claire Pinder for their contribution to making these works.
New commission!
Really excited to announce a new commission that's going to keep me very busy this summer! Working with the South Dorset Ridgeway again this is a commission to produce interpretation and way markers for ten new walks exploring the varying landscapes of this fascinating area of Dorset. More news soon.
STEP IN STONE
Salisbury Arts Centre
18 August – 24 September
Private View: Friday 19 August, 6-8pm
Another chance to see some of the work produced for the Step in Stone project. This project commissioned artists to produce work in response to the nature of quarries and their place in the environmental, cultural and industrial heritage of the Eastern Mendip region.
Salisbury Arts Centre, Bedwin Street, Salisbury, SP1 3UT
THE NEW BREED ACADEMICIANS
Atkinson Gallery, Millfield, Street
5 September – 15 October
Monday – Saturday: 9.30am – 5.00pm
Private View: Monday 5 September, 7- 9pm
A selection of work by academicians from The Royal West of England Academy elected over the last 5 years from 2011 – 2016.
Atkinson Gallery, Millfield School, Street, Somerset BA16 0YD
01458 444322
---
DOWN MEMORY LANE
19 March – 22 May 2016
Walford Mill Craft Centre, Wimborne BH21 1NL
Mon-Sat 10am-5pm, Sundays 11am-4pm
An exhibition celebrating Walford Mill Crafts 30th year and showing work by 40 prominent makers who have all been previously involved with the Mill.
MIAR Ceramics & Arts – May 2016 Open House
Part of the 'Artists Open House Festival' in Brighton.
30th April & all weekends and Bank Holidays in May plus other dates by appointment. Open 11am-6pm
MIAR, 9A Hove Place, Hove, East Sussex BN3 2RG
01273 323726
ART ON THE BLOCK 2016 charity auction
Tuesday 24 May
I have donated a work to this years Art on the Block event.
Renowned local and international artists have created works on A5 blocks, including painting, drawing, print, glass, collage and sculpture for Art on the Block – a charity art auction raising funds to improve the environment at Musgrove Park Hospital, Taunton. You can support this event by pre-bidding on line from 11 April until 9 May 2016 or attend the auction which takes place in the Beacon Centre, Musgrove Park Hospital on Tuesday 24 May 2016 at 6pm. Tickets £8, on sale now from the Art for Life office (artforlife@tst.nhs.uk or 01823 342488), and include wine and canapes.
---
EXHIBITIONS AND PROJECTS 2015
New exhibitions in Dorchester plus projects working with the geology of the Mendips and the archaeology of The South Dorset Ridgeway.
Reveal:Conceal exhibition with Rob Woolner at Dukes new gallery and showroom in Dorchester.
I will be showing new works alongside some from my archive that explore the theme. This exhibition is the first in a new partnership between Dorchester Arts and Dukes Auctioneers  developing the market for contemporary visual art.
Reveal:Conceal
Amanda Wallwork and Robert Woolner
28 October – 20 November, Monday – Friday 9am – 5pm
'In conversation with…' event: Saturday 7th November 11am. Free admission, no booking required.
On Saturday 7 November at 11am the artists will be in conversation with Mark Tattersall, Artistic Director of Dorchester Arts. All are welcome to what promises to be a fascinating insight into both the inspiration and process behind the work. Exhibition open 9am-12.30pm
The Gallery at Duke's, Duke's Fine Art Salerooms, Copper St, Dorchester DT1 1GA
Secret Art Sale – Bridport Arts Centre
I will have work in the Secret Art Sale on Wednesday 11 November  – a one day only sale of donated artworks to raise funds for Bridport Arts Centre.
All works £50 – one day only – first come first served! Doors open 10am
All enquiries to Exhibitions Assistant – Megan Dunford,
exhibitions@bridport-arts.com
The Lost Landscapes of the South Dorset Ridgeway exhibition at Dorchester County Hospital continues until 9th Jan. If you have trouble finding it – the work is in the corridor leading to Damers Restaurant plus a couple of pieces in the restaurant itself. This new work focuses on the numerous lost barrows of this significant prehistoric landscape.
My work exploring the prehistoric archaeology of this area of Dorset continues with the commission for the Field Days project (working with Artsreach and Dorset AONB). Research and development for this is well underway. The exhibition will tour sometime next spring.
Lost Landscapes of the South Dorset Ridgeway
On show until 9th January 2016 – 9am to 6pm daily.
Dorset County Hospital, Williams Avenue, Dorchester, Dorset, DT1 2JY.
Step in Stone
I have now collected all the work I made for the Step in Stone project from the Mendip quarries and Black Swan Arts. The project has been absolutely fascinating and a challenge for me to create work for an exterior context. I wanted to engage people in the concept of deep time and made a series of works for the three locations that drew attention to the age and make up of the rocks of the area – this included paintings, interpretation signs, fridge magnets and a cabinet containing stories of deep time. Anyone interested in a souvenir Deep Time fridge magnet let me know!
A big thank you to Gill Odolphie at the Somerset Earth Science Centre and Jeremy Rushton of the Mineralogy and Petrography team at the British Geological Survey for their support and the microscopic scans of rock samples from the four main rock types found in the area.
www.stepinstone-somerset.co.uk
---
PREVIOUS
PROJECT
Step in Stone – Site specific Art Trail and Exhibition
Tying in with Somerset Art Weeks Festival 2015 Momentum programme.
3 – 18 October
PREVIEW at Black Swan Arts, Frome on Friday 2 Oct 6.00 – 8.00pm – all welcome.
Encounter contemporary artworks while exploring the spectacular, wild landscapes of abandoned and working quarries in rural East Mendip. Fourteen leading local and international artists, all with connections to the South West, have created a series of site-specific artworks in response to the nature of quarries and their place in the cultural and industrial heritage of the region. Work includes sculpture, land art, photography, textiles, painting, drawing, sound, spatial poetry and printmaking ranging from the intimate to the extravagant. Sites include 1 working and 2 disused quarries and three indoor venues including an exhibition at Black Swan Arts. Full details from http://www.stepinstone-somerset.co.uk and the Somerset Art Weeks Festival 2015 guide, venue 60.
My work can be seen across three venues,
Westdown/Asham Quarry, nr Chantry BA11 3LY, Map ref: ST716 461. Open 7 days a week
Fairy Cave Quarry, Limekiln Lane, nr Oakhill BA3 5JG. Map ref: ST656 476. Open 11.00am – 6.00pm daily
Black Swan Arts Centre, 2 Bridge Street, Frome BA11 1BB. Open 10.00am – 4.00pm, Mon – Sat and Sun 4 (Closed Sun 11, 18)
www.stepinstone-somerset.co.uk
EXHIBITION
Land Tracks
Wine St Gallery, Devizes
Sat 13 June – Sat 25 July 2015
Private View: Saturday 13 and Sunday 14 June 2015, 2 pm – 5 pm
Amanda Wallwork RWA, Brian Graham and Sally McLaren RE Plus Ceramicists Paula Downing, Peter Hayes, Trevor Lillistone, Sarah Purvey, Robin Welch and Bernard Leach
Wine St Gallery @ No. 10 Unit 10, White Horse Business Centre, Hopton Road, Devizes SN10 2HJ
Open: Friday, Saturday and Sunday 11am – 4pm plus Wednesday 11am – 2pm  or by appointment
07852 945598
PROJECT
Field Days
I have been awarded a commission to produce work for 'Field Days', a project aimed at bringing to life the history of the South Dorset Ridgeway – an area of considerable archaeological significance.
The project is presented by rural touring organisation Artsreach in partnership with Dorset Area of Outstanding Natural Beauty and funded by the Heritage Lottery Fund. Commissioned work will form the basis of a touring exhibition around villages in the South Dorset Ridgeway in Spring 2016. The exhibition will display contemporary work alongside found/ archived objects/existing archaeological sites and data and will aim to increase understanding of the local heritage and how we might engage with the landscape and environment through the arts.
The project links beautifully with my current research into the lost landscapes of this ancient ridgeway route across Dorset.
This area of high ground in West Dorset is one of the richest archaeological sites in Britain and has international significance as one of the most diverse prehistoric landscapes in Europe. It includes evidence of Neolithic causewayed enclosures, bank barrows, chambered tombs, henge monuments, stone circles, multiple Bronze Age round barrows and Iron Age hillforts. My intention is to work with new evidence identified by the National Mapping Programme and other mapping data to reveal more about the many sites that are not immediately apparent or visible on the ground. These sites are revealed as faint marks or changes in colour of soil or vegetation identified by aerial photography and new remote sensing technology. First stage works will be shown at Dorset County Hospital in September 2015.
PROJECT
Step in Stone
I have been commissioned to produce new work in response to quarry sites in the Mendips for the Step in Stone project – A multi stranded art trail in 2015 around 3 disused/working quarries in the East Mendips. This project gives me an exciting opportunity to develop my work exploring a totally new geological region.
Research and early stage work for this commission focussing on geological mapping of this extensively quarried area is currently in progress. My work will be displayed in two disused quarries (Westdown 15 Aug – 18 Oct and Fairy Cave 3 – 18 Oct) as well as the final exhibition at Black Swan in Frome 3 – 18 October 2015.
www.stepinstone-somerset.co.uk